Treatment Details
The initial treatment involves a full consultation. This is not just a medical history but details of your lifestyle, thoughts and outlook on life.
Follow up treatments involve a shorter consultation regarding any changes.
You will need to remove your shoes and socks for the treatment as it is given to the bare foot and lower leg.
I use a massage bed which can be adjusted to your comfort – either reclining or sitting upright.
The reflexology treatment itself starts with a full reading of the feet to give me further information regarding the best treatment plan for you. I then provide a short massage of the feet and lower legs to "introduce" you to the touch involved. The actual reflexology treatment involves hard and soft massage type pressure being applied to both the soles and tops of the feet and toes.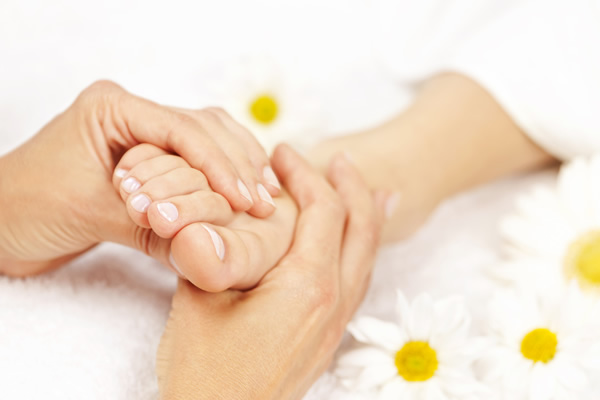 Some clients may feel tenderness in certain areas of the feet whilst the treatment is being applied however the benefits far outweigh any discomfort.
Once the treatment is complete I will provide relevant aftercare advice.
The therapy is an individual experience and everyone will have a different response however most people agree that it is extremely relaxing and pleasant.
I usually recommend an initial treatment plan of 6-8 treatments taken weekly or fortnightly and then as required by the client.
Treatment Costs
Reflexology Treatment
First treatment £35 – approx 1½ hours
Follow up treatments £30 – approx 1 hour
Discounts are available for block bookings of 6+ treatments.
Gift vouchers also available.
Please contact me for more details.
Cancellation / Rescheduling Policy
If you need to cancel or change your appointment, please will you provide 24 hours notice.
Please understand that when you forget or cancel your appointment without giving enough notice, I miss the opportunity to fill that appointment time.
If you do not provide 24 hours notice, the following charges will apply:
Less than 24 hour notice will result in a charge of 50% of the treatment fee
"NO SHOWS" will be charged the full cost of the treatment
Thank you for your cooperation & understanding.